{{ notice }}
{{ warning }}

The Babysitting Course
Everything they need to become a great babysitter!
Babysitting is one of the most important jobs you'll ever have!
The Babysitting Course prepares you to take on this big responsibility, providing you with the skills and knowledge to keep kids safe, happy and healthy while in your care.

This course is designed to keep you engaged as you work your way through each module at your own comfortable pace.
Staying Home Alone for the First Time?
This course is a great option for any child who will be staying home alone and/or looking after a younger sibling.
Take the Babysitting Course!
Loading
Topics include
The safe way to find a job
Preparing for an interview
Preparing for your first job
Understanding the different needs of children
Awareness and prevention of injuries in and around the home – for all ages
Pedestrian and biking safety tips to prevent injuries and keep kids safe
Making a 911 call
Basic First Aid & CPR - interactive first person video training experience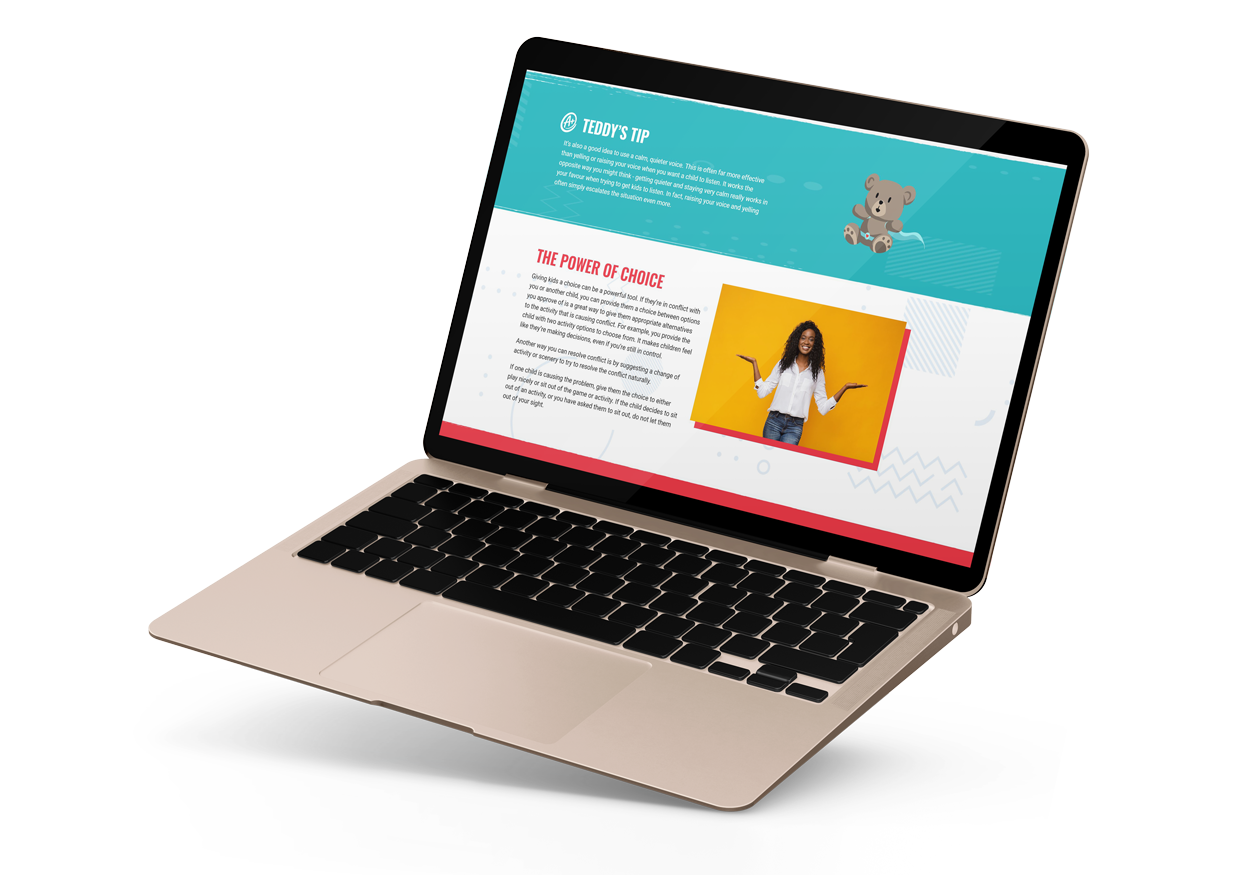 FAQS
What makes The Babysitting Course different?
As a newly developed online course, The Babysitting Course is interactive and fun! It uses the latest technology with interactive videos that feature real-life scenarios. You'll answer questions about how you would act in that exact situation!
You'll also get a printable Babysitting Checklist that you can take to every babysitting job. The course will go through the checklist in each module so you know exactly how to fill it out! There is also a printable Babysitting Handbook that you can refer back to. We're there with everything you need to be a great babysitter!
The Babysitting Course was also developed by a First Aid Training Provider, and an educator with over 25 years experience. It covers what you'll need to get started in babysitting, all the way to how to handle emergency situations.
How do I Register myself or someone else for The Babysitting Course?
Registering for The Babysitting Course is fast, easy & secure!
Click here and select 'Buy Now' to head to Checkout
Create a Learner Account
Enter the first and last name that will be shown on the Certificate
Enter your Email Address and create a safe password (* Parents/Guardians, if you put in your email address here the babysitter-to-be can always change it later in the My Profile tab.)
Continue with Checkout and select Purchase for Myself
The program will open and you click begin to start The Babysitting Course! OR send the account details to the Learner so they can login and start The Babysitting Course!
How do I purchase multiple licenses and send access to leaners?
Simply add multiple licenses to your cart and checkout. Note that learners must have their own email addresses. Once you are redirected to your dashboard you can distribute licenses to your learners
Click on 'manage learners' from the left sidebar menu
Select 'add new learners' from the top right side of the screen
Enter in your learner name and email address, and then select 'add leaner'. You can continue to add multiple learners, or click on 'confirm' to go to the next step.
Next you will have the option to assign training, click on The Babysitting Course license bank you just purchased and then select 'assign training'.
Your learners will now receive an email with instructions to login to their course. If they do not receive the email you can send them the activation code found next to their name in the learners list, they can use this code instead to login here: onlinetraining.actionfirstaid.ca/users/sign_in
How do I login to the course?
Click here: onlinetraining.actionfirstaid.ca/users/sign_in to login.
How old do I need to be to babysit in Canada?
In most of the provinces and territories, there is no minimum legal age to become a babysitter. The Babysitting Course is recommended for pre-teens and teenagers from ages 12-16. Manitoba: you must be 12+ years to stay home alone or to be a babysitter. New Brunswick: you must be 12+ years to stay home alone or to be a babysitter. One thing to keep in mind is how confident and prepared you feel, regardless of how old you are, and that is where The Babysitting Course comes in!
How long is The Babysitting Course?
The Babysitting Course takes approximately 5 hours to complete. We recommend slowing down and paying attention. You only have to take it once, so why not learn everything you can to be a great babysitter?
Can I stop and restart the course?
Yes! This online babysitting course includes 6 modules and you can take a break at any time. All you have to do is log back in and you can restart at the last lesson.
Can I use my phone to take the course?
While the course is designed for mobile there are certain interactive features that are better experienced on a tablet, laptop or desktop.
Will I get a certificate?
Yes! Every course completion includes a Digital Badge and Certificate. Your Certificate will be emailed to the email address on the account. You can also login to your account at any time and go to My Certifications.
I took the course, but I haven't received my certificate yet?
There are a few reasons why you may not have received your certificate yet:
Check to see if you have completed the last module fully, there is a button at the end of the course to 'go back to main menu' - you must click this to complete the course.
If you have done this and still not received a certificate, check your spam or junk folder - it could have landed there!
Also check the email on your account - is there a spelling error?
If all else fails please reach out to info@actionfirstaid.ca for assistance.
Does the Certificate expire?
No, the Certificate for The Babysitting Course does not expire. You can always go back into the course if you feel you need a refresher on any of the topics!
What forms of payment do you accept and in what currency?
The Babysitting Course is priced in Canadian Dollars and we accept Visa, Mastercard and American Express. If you would like to arrange for alternate payment methods please send us an email at info@actionfirstaid.ca